SYNOPSIS
My Roomie's an E-Girl is a trope-filled, wholesome, lighthearted, cringefest of a romantic romp about two gamers who fall in love. When Wali moves into his new freshman dorm at university, he discovers that his nerdy roommate, Joey, isn't just the boring, stereotypical gamer nerd guy that he appears to be. Instead, he lives a double life as his online alter-ego "Ql0ssey", a prolific twitch streamer and e-girl heartthrob.
---
CONTENT WARNINGS
MRAEG is intended to be lighthearted and is not intended to have any dark or heavy themes. However, there are brief mentions / depictions of drinking and a plethora of suggestive scenes (think PG-13) - it's a BL, after all. However, MRAEG does not and will not ever contain explicit 18+ material.
---
READ ELSEWHERE
You can also read the comic on
Tapas and
Webtoon, but be warned that these mirrors may be missing pages.
I am a hobbyist creator and do not have the time, resources, or funds to fairly pay translators (unfortunately). However, there are some volunteer fan projects that have started to translate MRAEG into languages besides English. I do not personally monitor the quality of these translations but I am exceedingly grateful to those who have taken the time and effort to make translated versions!
If you are interested in translating MRAEG into another language, reach out to me over social media or discord (rune#9920). I can provide you with a zip file of pages to make typesetting faster/easier, and we can discuss reposting/hosting permissions.
POR - Leia em português aqui!
---
ABOUT THE WEBSITE
This site is hosted by Neocities (a free webcomic host) and Rarebit (which is an amazing free, open-source webcomic template).

MRAEG is part of the WEB/COMIC/RING! Please take a look at the works of our fellow webring members!
---
LINK TO US
If you'd like to link to us on your own site, you can use the following 88x31 button.

If you're interested in posting about MRAEG on social media, you can use the hashtag #MRAEG or #MyRoomiesAnEGirl.
---
FANWORK POLICY
If you are interested in making fanworks of MRAEG, including but not limited to fanart, fan edits (including coloring comic pages or panels), and fanfiction, you are welcome to do so! My only request is that fans under 18 do not create, publish, or disseminate explicit content.
---
SUPPORT THE COMIC
Making my work free-to-read is important to me. As a result, I make very little off my art. If you'd like to support my work, you can read my comic works weeks to months in advance via early access through my Ko-Fi!, or make a one-time donation.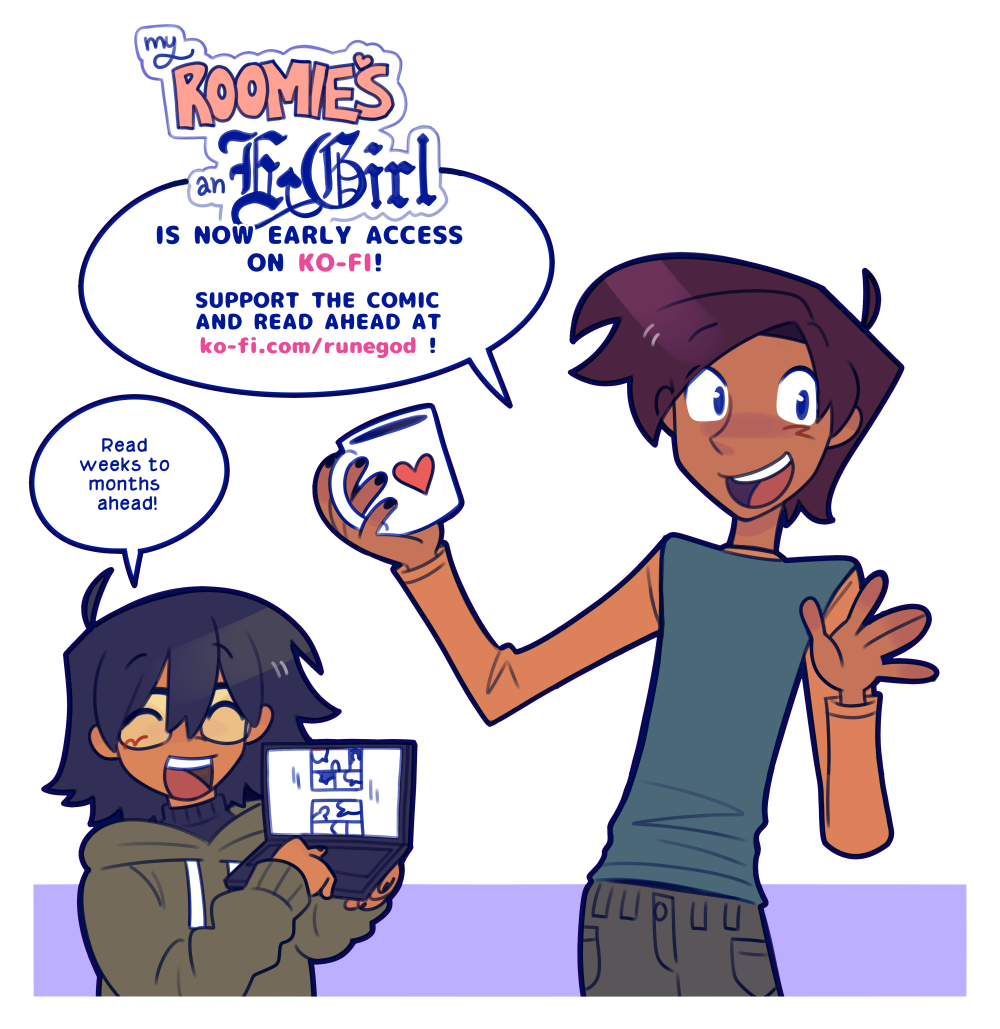 ---
ABOUT THE AUTHOR
Hi, my name is Rune (short for RUNEGOD). If you'd like to see more of my art or other comics, you've come to the right place! Head on back to my main page runegod.net to explore more. Thanks for stopping by!